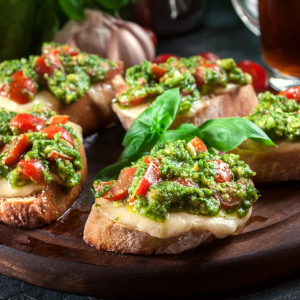 Bruschetta Caprese with Pesto
A simple recipe, perfect for your Antipasto!
Preparation Method
Heat the oil in a skillet and sauté the tomatoes and garlic. Stir well for about 5 minutes or until the tomatoes are tender. Turn off the heat and reserve.
Then place the bread in a shape and take it to the oven preheated to 180ºC to toast them on both sides.
Remove from the oven and mount each slice of bread with a layer of tomato, a layer of cheese and finally put the pesto and olive oil. Serve immediately.
Potato Boat with a stuffing of Canned Tuna
Potato Boat with a stuffing of Canned Tuna
Pineapple Semifrio from the Azores with Biscuit Base
Pineapple Semifrio from the Azores with Biscuit Base
Nicoise Salad with Salmon and Paprika
Nicoise Salad with Salmon and Paprika
Hot Dog with Guacamole and Sweet Potato Chips
Hot Dog with Guacamole and Sweet Potato Chips