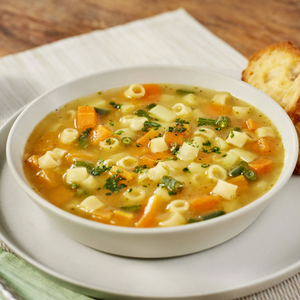 Vegetable Soup
Tasty, very nutritious, and easy to make, this is the best soup for when you need that meal that is also a hug. Try it!
Ingredients
1 medium potato cut into small cubes

1500 milliliters of water

200 grams of butternut squash cut into small cubes
Preparation Method
Heat the oil in a pan and sauté the onion. Add the carrot and potato, and sauté quickly.
Add water and vegetable broth. When it boils, add the pumpkin and green beans.
Cook over medium heat for another 10 minutes and add the pasta.
Cook over medium heat until the pasta is al dente (approximately 12 minutes).
Serve on a plate decorated to make your mouth water.
Lasagne in the Frying Pan
Lasagne in the Frying Pan
Tom Kha Kai Soup
Tom Kha Kai Soup
Madeira Regional Poncha
Madeira Regional Poncha
Fried Blue Jack Mackerel with Villain Sauce
Fried Blue Jack Mackerel with Villain Sauce