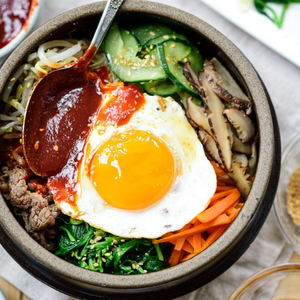 Bibimbap (Korean rice with mixed vegetables)
Along with kimchi, bibimbap takes its place among the favourite foods of Korean cuisine. Literally meaning 'mixed rice', it is a popular meal consisting of white rice topped with vegetables, meat, a whole egg and gochujang (red chilli paste).
Ingredients
1 cucumber, cut into sticks

2 carrots cut into sticks
Preparation Method
Mix cucumber pieces with 1/4 cup gochujang paste in a bowl; set aside.
Bring about 2 cups water to a boil in a large nonstick skillet and add the spinach; cook until the spinach is wilted, 2 to 3 minutes. Drain the spinach and squeeze out as much moisture as possible; Reserve the spinach in a bowl and stir the soy sauce into the spinach.
Heat 1 teaspoon olive oil in a large non-stick frying pan and cook, stirring the carrots until soft, about 3 minutes; Add the garlic and cook just until fragrant, about 1 minute longer.
Add the cucumber pieces with the gochujang paste and sprinkle with red chilli flakes and set the mixture aside in a bowl.
Place the meat in a clean non-stick frying pan over medium heat, about 5 minutes on each side, and set aside. In a separate nonstick skillet, heat an additional 1 teaspoon olive oil over medium-low heat and fry the eggs on one side only until the yolks are runny but the whites are firm, 2 to 4 minutes each.
To assemble the dish, divide the cooked rice into 4 large bowls, top with the spinach mixture, a few pieces of meat and the cucumber mixture.
Place 1 egg on top of each portion. Drizzle each bowl with 1 teaspoon of sesame oil, a pinch of sesame seeds and a small amount of gochujang paste, if desired.
Coffee Cream Pudding
Coffee Cream Pudding
Traditional Chocolate Brownie
Traditional Chocolate Brownie
Strawberry and Basil Daiquiri
Strawberry and Basil Daiquiri
Watermelon Cocktail
Watermelon Cocktail