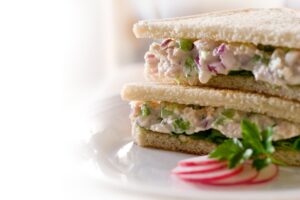 Tuna Sandwich with Béarnaise Sauce
A well-filled sandwich for a quick and satisfying meal.
Ingredients
1 stick celery, finely chopped

1 red onion, finely chopped

1 sprig fresh parsley, finely chopped

Atkins & Potts Béarnaise Sauce

Sliced brown or granary bread
Preparation Method
Misture o atum, aipo, cebola, salsa e rabanete numa tigela.
Junte o Molho Béarnaise e assegure-se de que tudo está bem revestido.
Use como recheio de sanduíche com o pão.
Seafood Rice
Seafood Rice
Linguine with Cherry Tomatoes and Black Garlic
Linguine with Cherry Tomatoes and Black Garlic
Sardines and Peppers Bruschettas
Sardines and Peppers Bruschettas
Chocolate and Almond Cheesecake Chocolate Chocofeuilletés
Chocolate and Almond Cheesecake Chocolate Chocofeuilletés