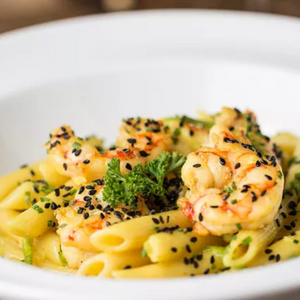 Penne in Curry with White Truffle Oil
Today's dish is perfect for a special dinner or lunch when you need the typical aroma and coziness of food made with love.
Ingredients
2 cloves of garlic, minced

1 medium onion cut into half-moons

300g grated Parmesan cheese
Preparation Method
Cook the penne pasta in water with salt and cinnamon (two teaspoons of cinnamon for each liter of water).
Sauté the garlic and onion, mixed in olive oil.
After browning, introduce the prawns until golden brown too. Add the curry and stir in the prawns.
Add the cream and the grated cheese. Continue stirring and add the courgette.
Season with salt and a teaspoon of sugar. Taste until you feel it is good.
Add the penne pasta and let it reduce until it reaches the serving point and mixes.
Toast the black sesame seeds in a frying pan.
Season the penne pasta with white truffle oil and sesame seeds to taste.
Hot Dog with Guacamole and Sweet Potato Chips
Hot Dog with Guacamole and Sweet Potato Chips
Liver Sauce Pork Greaves
Liver Sauce Pork Greaves
Sichuan Chicken
Sichuan Chicken
Risotto with Mushrooms
Risotto with Mushrooms