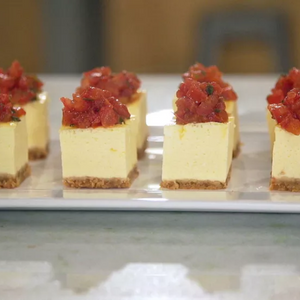 Savory Cheesecake with Tomato Confit
Learn how to make this version of cheesecake to serve as a canapé!
Ingredients
For mass
For the filling
For the confit tomato
Preparation Method
Cut the tomatoes, remove the seeds and chop them into small cubes.
Place the tomatoes on a tray and drizzle with oil.
Season with rosemary leaves, thyme, salt and pepper.
Bake in a preheated oven at 180 degrees for 20 minutes.
In a bowl, mix the crushed crackers with the melted butter.
Line the tray with the dough and take it to the freezer to harden.
Mix the cream cheese and the eggs in a bowl with the help of a fouet (without beating the eggs).
Add the salt and, finally, take the tray already lined with the cookie dough to the oven at 180 degrees for another 40 minutes.
When you take it out of the oven, wait for the cheesecake to get cold, then take it to the fridge, and when it's hard enough you can cut the canapé and cover it with the tomato confit.
Linguine with Cherry Tomatoes and Black Garlic
Linguine with Cherry Tomatoes and Black Garlic
Azorean Lapas Grilled
Azorean Lapas Grilled
Persian Toffee
Persian Toffee
Quince Cheese Semifreddo
Quince Cheese Semifreddo