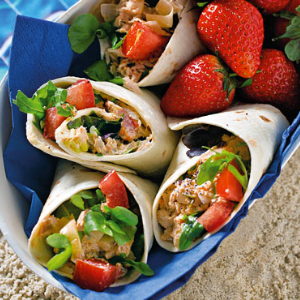 Tuna Ventresca Wraps
The classic taste of tuna, mixed with fresh cream cheese, tomato and basil sauce and a variety of vegetables. All wrapped up in practical wraps, very easy to prepare and perfect for a light lunch or a nutritious snack for the whole family.
Ingredients
100 g fresh cheese with herbs for spreading
Preparation Method
Brown the chopped onion and the leek slices in olive oil.
Add the well-drained tuna belly and the tomato sauce and cook over low heat for about three minutes, stirring constantly.
Remove from the heat, add the fresh cream cheese and mix very well.
Wash the tomatoes, cut them into small cubes, and remove the seeds.
Distribute the lettuce mixture and the tomato cubes over the tortillas and, on top, arrange the tuna mixture and the poppy seeds, rolling them up tightly at the end.
Cut the wraps in half and wrap them in cling film.
Serve with fruit.
Tofu Thai Satay with Peanut Sauce
Tofu Thai Satay with Peanut Sauce
Carpaccio of Beetroot with Apple and Goat Cheese
Carpaccio of Beetroot with Apple and Goat Cheese
Coconut Water and Tonic Cocktail
Coconut Water and Tonic Cocktail
Tapas with Calamari, Fried Tomato, and Salsa Brava
Tapas with Calamari, Fried Tomato, and Salsa Brava