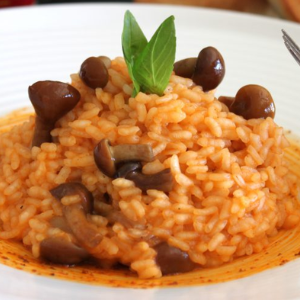 Risotto with Mushrooms
The creamy texture of a delicious risotto, accentuated by the unique flavor of mixed mushrooms, try it with a touch of Sweet Smoked Paprika.
Preparation Method
First, heat the chicken broth.
Peel and finely chop the onion, fry it in a pan with oil, until soft. Clean the mushrooms and add them, let them poach for another 5 min.
Add the rice and the Sweet Smoked Paprika, mix well until the rice takes on color.
When the chicken stock is hot, add it to the rice, little by little, until the rice is at the point of cooking.
Then add the butter and Parmesan to taste, mix well, season with salt and pepper and remove from the heat.
Sauce for French Fries
Sauce for French Fries
Sardines and Peppers Bruschettas
Sardines and Peppers Bruschettas
Steak Fajitas
Steak Fajitas
Spaghetti with Truffle and Black Garlic
Spaghetti with Truffle and Black Garlic